Stranded in Starlight Cove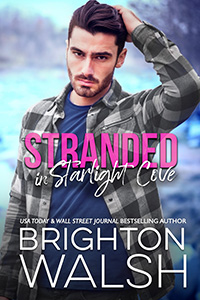 Release date: 01.01.23
Series: n/a
Publisher: Bright Publishing, LLC
I've been avoiding my best friend's little sister for three long years because I shouldn't be attracted to a woman a decade my junior. But when she calls and begs me to bail her out of another one of her disasters, I drop everything to rescue her. I spend way too much on a last minute plane ticket to Starlight Cove, Maine, with nothing on my mind but getting her butt safely back to Havenbrook as soon as possible.
At least until I arrive and realize I'm trapped right along with her. And now I have to figure out how to avoid the one woman I'm not supposed to want while we're stuck in a tiny cottage that has only one bed…
Available FREE exclusively to newsletter subscribers!

SaveSaveSaveSave
SaveSave
SaveSave
SaveSave