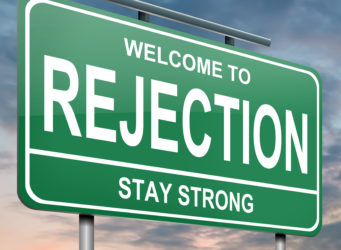 After many years blogging with Bad Girlz Write, we've closed our doors and shut down the site. But I didn't want all those posts to go to waste, so I'm going to be reposting them here where they can live forevermore. LOL
This particular post was the most visited on BGW and the one I referenced the most while I was part of the Pitch Wars contest. Three years have passed since I wrote this, but every bit of it is still applicable to each and every writer I know—published or unpublished, with one or fifty books under their belts. Keep on keepin' on, friends.
***
Since I already did my post on what I constantly screw up for this month's theme, I'm going to use this post to write about something that's important for any writer: Perseverance.
If you want to make it in this business, you need it. There's no denying that. You will constantly face obstacles and challenges—not to mention rejection—and it's important you keep on keeping on.
This is the second year I'm a mentor for Pitch Wars, a writing contest where hopefuls submit their work to a limited number of potential mentors, vying for a slot as mentee. If chosen, there's two intense months of rewrites and revisions under the guidance of a mentor, leading up to the agent round.
Right now, it's selection period. The mentors have been researched (hopefully), their wishlists scrutinized. The submission window has closed, during which the hopefuls submitted their polished work, and now they're all waiting with bated breath, hanging on the tweets of the mentors to see if their MS will be selected.
As I was trying to figure out what to write for this post, I put out a call on twitter (as one does) and asked what the Pitch Wars hopefuls would like to see. I got several tweets, but the one that stuck with me was, What should we do if we don't get picked?
Well. I'm glad you asked. Grab your marshmallows, gather around the fire, and let Auntie Brighton tell you a little story…
August 2013, I submitted my query and the first 250 words of CAGED IN WINTER to a contest (I can't remember which one…I thought it was Pitch Madness, but the timing doesn't work, so just make one up) and then I waited. And I hoped. And hoped some more. I was so sure I'd get picked.
And then I didn't get in. (Dun dun dunnnnnnnnn)
Did it suck? Hell, yeah, it did. Did I give up and never write again? (Spoiler alert: my sixth [now tenth solo, eleven co-written] book released last month.) So, uh, no. I didn't give up. I picked up my bruised ego and my dented pride, and I kept going. I continued on the path I'd intended. I was fortunate in that my path wasn't much longer. Two weeks after that rejection from the contest, I received the first of four agent offers on CAGED IN WINTER.
So what does this tell us? A few things: one, everyone's path is different. Some get in contests and land an agent immediately and their book sells at auction. Some get in and don't get any requests. Some don't make it in and get a dozen. Some don't do contests at all and query for a week and get an offer. Some find an agent after years in the trenches. No two paths are the same–your path is your path for a reason.
Two, some manuscripts just aren't made for contests. There's not enough room for them to breathe. They can't shine. From 140 characters to 50 or 250 words…or even one chapter, sometimes that's not enough to get to the gold of your manuscript.
Three (and this goes for more than just contests, but for errrrrrr'thing in publishing), reading is subjective. Ridiculously so. Every person who reads your MS is bringing their life circumstances and their baggage with them, and that affects their reading experience—for better or worse.
Lastly, the power of positive thinking didn't kill me. It hurt a little after my hopes got crushed when I didn't make the cut, but the main reason I was able to wallow for an hour, then shrug it off and keep going is because I believed in my work. 
I feel like I need to repeat this while putting it in all caps, bold, italic font, so I think I will: I BELIEVED IN MY WORK.
If you want to persevere in this business, you have got to have faith in what you write. Because if you don't? Who's going to?
During the 48 hours, give or take, since the submission window closed for Pitch Wars, there has been an influx of tweets on the hashtag, most mentees biding their time chatting while they wait to hear. Unfortunately, there's been a lot of negative thinking hanging out over there, too. Many are certain they're not going to get in. So certain of it, they've pretty much written it off. Meanwhile, I still have approximately 30% of my subs to even open, let alone read. They've thrown in the towel before we've even had a chance to read their name on a submission form.
I've always been a believer in the power of positive thinking. I get excited over things that may never happen, but I do it because it makes me happy. I like looking forward to something, thinking about all the good possibilities. Is it disappointing? Well, sure, sometimes. But, hey, life is disappointing sometimes. At least this way I got some genuine happiness from hoping.
Here's the real truth: this industry is chock-full of disappointments and rejections and many, many no's. That's just a fact. You are going to face it every leg of this journey from finding agents to publishers to working with editors to readers' reactions to your book baby. The good news is it's also full of lots of good news! But you're sometimes going to have to wade through the bad to get to the good. One thing that helps is to remember you're not the only one to go through this. Head on over to the good ol' google and search for famous author rejections. There are a lot. Pages and pages of them, and many of them are classics or beloved books, ranging in category and genre. But what do they all have in common?
Not a single one of them gave up when they got that inevitable 'no'. Will you?