Hello, all you lovely, gorgeous people! I was doing so good posting and then…well, then life got in the way. I had to take an unexpected break from the blog for a couple weeks because of deadlines and school coming to a close tomorrow (ack!). (I feel like this would be a good time to let you know that this isn't the only place I blog, and if I'm absent here, it's probably because I'm running my mouth at either Bad Girlz Write or Writing With the Mentors!) But I wanted to pop in quick and give you a little recommendation, because I always love hearing about fabulous new reads, especially as we dive headfirst into summer!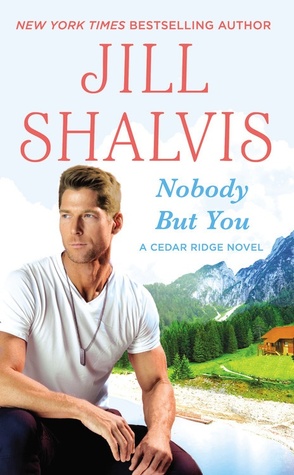 If you know even a little about me or follow me, well, anywhere, you probably already know Jill Shalvis is my favorite contemporary romance author. When I read one of her books, I know I'm in for a good time. She is my palette cleanser and my guaranteed happy read. There's going to be a hot alpha, a relatable heroine, great side characters, banter, laughs, swoons, and sex. I was a diehard Lucky Harbor fan, and I was excited for Jill to dive into a new location with new faces we got to meet. I'll admit I wasn't won over quite as quickly with Cedar Ridge as I thought I'd be. Don't get me wrong, I enjoyed the first two books in the series, but I didn't love them like I usually love Jill's novels. I thought maybe the time had finally come and, after reading over 50 of her books, the sparkle had faded. And then came NOBODY BUT YOU. This book, you guys. This book was everything I've come to love about Jill's books all rolled into one delectably sweet and sexy package.
Don't believe me? Fine. Make me pull out the big guns…
"Your shorts," she managed. "You're still wearing them."

A wicked smile crossed his mouth as he stripped free of them in a single economical movement.

Before she could get a look at the goods, he wrestled her onto his bed. "I fantasized about this last night," he said, crawling up between her legs and pinned her with his delicious weight.

"About me going commando?"

He smiled, intense, dangerous. "About you beneath me on my bed," he said, and then rolled so that she now straddled him. "And over me. Scoot up, Soph."

"Um, what?" Scoot up? To where?

Jacob didn't repeat himself, just slipped his arms beneath her thighs and physically lifted her farther up his chest and then…

Oh God, and then.

His hands were on her ass, his mouth on ground zero.
Yes, that's exactly what you think it is. And it's at 27%. Jill, I'd like to take this time to thank you, from the bottom of my pervy heart.
If you haven't read Jill yet, what are you waiting for?!
What's on your TBR list this summer? Or what amazing book did you just finish? Because, you know, I don't already have enough sitting on my virtual and real bookshelves… 🙂