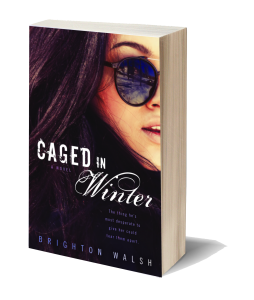 It's hard to believe that CAGED IN WINTER will be released into the world a week from today. Much like with the birthdays of children, the release of this book both feels like it's taken forever to get here, and also that it was just yesterday I'd gotten the offer from Berkley (it's actually be a year, almost to the date!).
I've been in crazy-drafting mode, trying to finish up EXPOSED, the follow up to next year's CAPTIVE, so I haven't been consumed by all things pre-release. It's both a blessing and a curse. A blessing because I'm not getting so wrapped up in it, but a curse because ALL THE THINGS are happening at once!
A week is so close, but for those of you waiting patiently for the release, I know it feels like foreverrrrrrrrrrr. As such, how about a little excerpt to tide you over?
A slow smile spreads across his face, his eyes dancing. There's nothing sweet about his expression. It's the look of a predator capturing his prey. And as much as the idea rankles me, I can't ignore the flare of excitement that grows low in my belly, the awareness he makes me feel in my body.

Everything about him is larger than life. His size, most notably, but there are other things I didn't pick up on before when the only illumination we had was the moon and passing streetlamps. But here, under the harsh track lights of the bus, everything is accentuated. He's imposing, even sitting there, his back curled as he leans toward me. His face looks like it was carved from stone, the angles of his jaw and cheekbones sharp and unforgiving. I feel like his shoulders are twice the width of mine, at least, though I know that's not possible. Probably. His arms are massive, roped with muscle and completely covered in ink. I'd seen hints of tattoos before . . . pieces here and there, but this . . . This is more than I anticipated. Designs cover both forearms, disappearing into the short sleeves of the shirt wrapped tightly around the bulk of his biceps, tiny whispers peeking out of the neckline.

I wonder where they stop. If they stop.

"I guess it's my lucky day then."

And his voice . . . low and deep and rumbly and so perfectly matched to the rest of him. I glance down once again at the name he's had permanently etched on him. The idea that someone—a girl—means enough to him to have her name forever branded into his skin is foreign to me. I can't imagine that kind of love . . . that kind of commitment. Not after the examples I've had in my life. The low hum of disappointment in my stomach at him being taken is a completely unwelcome sensation.

Meeting his eyes, I recall what he said and ask, "Why's that?"

He stares at me for a beat, his smile growing even more until his entire face lights up with it. "You just agreed to dinner."

I sit back in my seat, brow furrowed. "Um, no I didn't. What I said was I don't do committed guys."

"Right. And then you said, 'Too bad, I was going to say yes.' And you should know . . . this?" He runs a finger over the flowing letters that make up the girl's name on his arm. "Is my niece, not my girlfriend. That?" He points to the date. "Her birthday, not an anniversary."

I open my mouth to say something, anything, but nothing comes out. And then his hand is under my chin, coaxing my jaw up until my lips are no longer parted. With a single finger, he makes a path down the side of my neck, over my shoulder, down my arm to my wrist before he grabs my hand, and I swear to God, I'm on fire. Every nerve ending in my body is setting off a CODE-RED alarm, and I'm helpless to stop it. His thumb rubs back and forth on the inside of my wrist, his touch gentle and reverent, and I can't remember the last time someone's touched me so sweetly.

And I realize with clarity it's because I've never been touched this way.

When I meet his eyes again, they are open and honest and beseeching.

"So. What time can I pick you up?"
To celebrate the release of CAGED IN WINTER, I'm doing a little giveaway! I've got a NOOK Simple Touch Reader and two paperback copies of my backlist titles, PLUS ONE and SEASON OF SECOND CHANCES. Both these titles are e-only, and won't be available ever in paperback form. Fortunately, I have a few copies that I'd love to share with you!
The giveaway will go through release day (11/4), is for readers 18+ and is open to US only! There will be three winners in total, and I'll announce them next week on the blog.
a Rafflecopter giveaway


Social Share