How is it Monday again already? We really need to have a talk with whoever's in charge, because I could use an extra day in the week. We could call it Funday. The day after Sunday, but before that evil witch Monday. Who's with me? I'll get a petition drafted.

This week has been a clusterfuck. I mean, an absolute clusterfuck. There is no other word that as accurately encompasses exactly what's been going on for the last seven days. It was my oldest's birthday (dear God, how have nine years passed since he was a baby?!), so we had to do the party and birthday extravaganza. I also did a tiny thing called Completely Redoing All of Our Bedrooms, Including New Furniture For One (and IKEA furniture at that, which means a lot of hours of my husband swearing). I mean…why I thought I'd be able to get this done before Friday when we're getting company is beyond me.

Basically what I'm saying is, I'm a frazzled, crazy, clusterfuck of a mess.
But I see the light at the end of the tunnel. School starts a week from tomorrow. Shh…quiet. Do you hear that? Yep, that's angels singing. I am so ready for routine, and despite what my children whine say, they are too.
Oh! But I also have exciting things! Things are moving along with my Christmas novella, Season of Second Chances. Everything's been sent off to production, and we just got the back cover copy* for the anthology:
Put love on your wish list

This Christmas, the producer of a small town holiday spectacular is swept away by a handsome Hollywood director. Being stranded in a snowstorm offers a couple a second chance at a future together. And an American in London helps a brooding Brit put the ghosts of Christmas past behind him.

Wherever you are, however you celebrate, this collection of three festive novellas will bring warmth to your holiday season.

Edited by Angela James, this anthology includes:

Tinsel My Heart by Christi Barth
Season of Second Chances by Brighton Walsh
Mine Under the Mistletoe by Kat Latham

Stories also available for purchase separately.

Yay! I'm waiting on a cover, but I hope to be able to share soon.

Now, how about I make someone's day? Congrats to FunmbiE, the winner of last week's giveaway of a signed copy of Wait For You!
This week, I've got an ARC of not-yet-released Almost True Confessions by Jane O'Conner.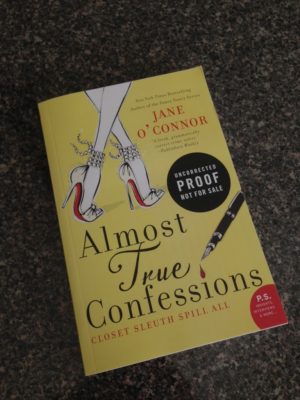 This comic mystery set in the elite zip codes of Manhattan will leave you breathless . . . literally.

What could be more fun for a freelance copy editor than working on a juicy tell-all about one of Manhattan's most enigmatic society doyennes? But when Miranda "Rannie" Bookman arrives at Ret Sullivan's tony Upper East Side apartment, she finds more than the final draft of the reclusive author's manuscript waiting for her—there's also the half-naked body of Ret herself, tied to her bed and strangled with an Hermès scarf.

Was this merely a case, as the police believe, of rough sex that got a little too rough? Or was Ret murdered because someone wanted to make absolutely sure she didn't meet her deadline? Once again, Rannie must prove that her mind is just as sharp as her Col-Erase blue pencils—or risk getting rubbed out too.
You know the drill: have fun with the handy-dandy Rafflecopter thingamabob, and stop back next week to see if you won. Oh, and tell me in the comments what books you'd like to see offered as giveaways for next month! You can see a picture of the stacks in this post.
Contest is open to US Residents only
Must be 18 years or older to enter
*cover copy is not final or edited

Social Share